In a small market like Ireland, success and failure are based on reputation. Keyhouse recognises that its success relies on the quality of the software and the services it provides. The breadth and quality of service provided by Keyhouse is reflected in the fact that it has been providing tech solutions since 1983. We pride ourselves on our 'hands-on' understanding of document, case and practice management systems, and with successful implementation, how it can drive efficiencies. 
That's enough about what we think… here are 22 answers to the most frequently asked questions about practice management systems.
1. How many installations of the Keyhouse system are already installed in Irish Legal Offices? 
Including in-house legal departments, we have close to 400 case management installations comprising of approximately 5,000 users. Keyhouse is the proven business engine for law firms, in-house legal departments and local authorities chosen by over 450 Irish practices including 6 of the top 20 law firms and 9 out of the top 10 local authorities.
2. What is the cost of installation?
This varies greatly as it is dependent on the firms' requirements (i.e. cloud or an on-premises server solution), what modules the firm is investing in and the number of users in each firm.
A comprehensive quote detailing costs is provided once the firms' requirements are assessed with an initial discovery call. To book your discovery call, get in touch on info@keyhouse.ie or call us on 01 290 2222.
3.  What new developments has Keyhouse made in the last 5 years?
All of our software is developed by ourselves – and always has been, so the systems we install are our own, and are supported directly by us from our offices in Sandyford, Dublin where there is a dedicated and highly skilled team.
The on-premises Keyhouse Practice and Case Management Solution was redeveloped in 2015 using the latest Microsoft Technologies and again in 2020 employing the latest Microsoft Azure Cloud technology enabling cloud migration.
Certain key features like the MS Outlook integration and the Brief Builder are constantly being updated taking advantage of new Microsoft developments.
The Keyhouse Mobile App was first launched in October in 2019 with new functionality such as the facility to share dictations from other Apps with the Case Management System.
Keyhouse also developed new collaboration features in the past year like integration with Citrix FileShare which enables the sharing of large documents like briefs.
With our ear to the ground, we are always adding new features to help you adapt and tackle the ever-changing business landscape with developments like the Negative Interest Rate Calculator and solutions for remote working for example.
4. Why is your system better than those competing in the market?
This is a very subjective question and it's dependent on what is important to your firm. Keyhouse is however renowned for the following:
Service
Support
Complete System Integration (Accounts & Case Management)
Supplier reputation
Working with a local Irish company with people on the ground
Click here to read what our clients think makes Keyhouse the right choice for them.
5. What about backup and ease of contact in relation to daily use? 
Hardware (server & PCs) back-up is provided by a firms' IT Supplier, and we assist in this area when required.
In relation to Keyhouse backup and support, we have a fully staffed support desk, based in Ireland, which can be contacted by phone, email and web portal with any queries clients may have. We are widely regarded as having a very prompt service in responding to clients' needs and one of the few, if not the only case management supplier that you can phone with a query as opposed to logging it by email. 
6. What about charges for ongoing licence per user?
Before we get down to the costs, let's talk fit. Book an exploratory call on 01 290 2222 to learn more about how Keyhouse can help your firm work better and see if we are the right fit for your firm.
7. Can you provide six existing client firms who will vouch for the operation of your system?
We regularly provide reference sites for prospective clients who are considering engaging Keyhouse as their Practice Management Supplier. To see what some of clients are saying click here.
8. What is the cost of training and number of days required as part of installation package?
We have highly experienced trainers who have trained thousands of people how to use the system. They provide specific training for each firm and answer your teams' questions throughout the live sessions. The cost of training depends on your requirements, the number of users and would be quoted for in detail before the initiation of any new project/installation.
9. What do you recommend for the best data security – server or cloud?
Data on the cloud is very secure and is protected behind firewalls and other security measures which are constantly being updated unlike an on-premises server which very often are only updated a few times a year. Microsoft are at the forefront when it comes to protecting your data using the latest industry standard cyber security technology. If you are using Office 365 your emails are already in the cloud so you would be familiar with Microsoft security protocols. Please note your IT Supplier would be responsible for ensuring fire walls are set up and anti-virus is in place.
We are not in the business of being inefficient, so what we recommend depends on your requirements, the age of your server and how it has been maintained. If for example it's relatively new with the latest operating system, you might want to continue using it for another while to get your return on investment. Then later we can chat about the next best step for your firm. To see if going to the Cloud is the right move for you now, take our Cloud Readiness Assessment here.
10. Where is Keyhouse Support provided from?
Keyhouse has a fully staffed support desk based in Dublin which can be contacted by phone, email and web portal with any queries clients may have. Most of our support calls come in over the phone, many of which are resolved there and then with the client.
11. Can the Keyhouse Practice Management System be accessed remotely?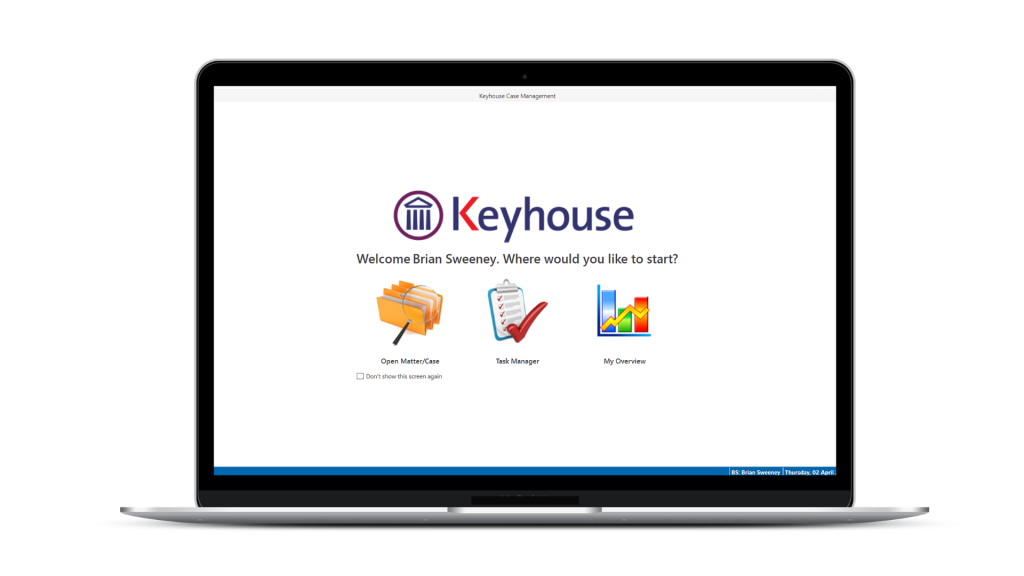 With our Cloud (Keyhouse 365) Solution, you automatically have access from anywhere, at any time with good broadband.
If the system is installed on a server, it can be accessed out of the office via a remote desktop or any of the standard remote access software like Splashtop or TeamViewer which your IT Supplier would install.
12. In what jurisdiction is the data located with Keyhouse Cloud?
Data is located in a data centre in Dublin and backed up to a location in the Microsoft North Europe region, complying with GDPR.
13. To comply with GDPR, what provisions in the Contract would prevent liability for a firm in relation to processing and storage of data?
As the firm is designated as a "Data Controller" it is the firm's responsibility to manage the data from a GDPR perspective. Keyhouse provides tools to assist in the management of this.
Keyhouse is ISO27001 certified and is audited every year to ensure that these Data Security standards are adhered to. Keyhouse can only access the firm's data with the firm's authority for support purposes only.
The Keyhouse Software Services Agreement outlines its responsibilities to the firm in the provision of its products and services.
14. Where are your support engineers based?
In the Republic of Ireland.
15. What is the average size of your Solicitor clients?
We have a broad range of clients ranging from 2 users up to the top 6 firms.
16. What unique selling points have you which sets you apart from your competitors?
Our Customer Value Proposition is to help law firms work better through our software, people, and services. If you were to speak to your colleagues who use Keyhouse, they would say it is our reputation, service, product functionality, reliability, and experienced team.
17. What is the cost per month/per annum per user and the cost of adding an extra user during contract – cloud or on-premise?
We can't tell you everything about us before our first date, get booked in for a no-obligation discovery call. Call us on 01 290 2222 or email info@keyhouse.ie to learn more about the Keyhouse Practice Management System.
18. What's the length of the average contract? If it is terminated, is there is a break clause included?
The contract is for a year and there is no break clause. It is renewed annually. Also, regardless of the length of contract, the firm has always full access to its data so that they can move from one Practice Management system supplier to another, if required.
19. Is there any additional cost for the conversion of existing data to Keyhouse Practice Management System?
Yes, we would need to see the data before giving exact costing as databases can differ, but we have converted from every system on the market, and will be able to provide further insight prior to reaching this stage.
20. Do you recommend a hardware supplier?
Yes, we work very closely with an IT company based in Galway. However, we are happy to work with your current IT Supplier if you have one.
21. Specify the minimum hardware requirements to run the systems being offered
We tick off all these requirements during our discovery calls. Call us on 01 290 2222 to learn more about the Keyhouse Practice Management System.
22. For Keyhouse Cloud, what is the minimum download and upload speeds required to operate the system?
This is dependent on the number of users; details can be found here.
For more Frequently Asked Questions click here.