How to add the new 9% VAT code to Keyhouse Legal Accounts
The Government has announced new measures to offset the financial impact of the ongoing energy crisis. The new measures will see the VAT rate on gas and electricity bills temporarily cut from 13.5% to 9%.
If a 9% rate doesn't already exist on your system, you may add one by following these steps:
In SAM open Items(1), then Codes (2) and finally VAT codes (3)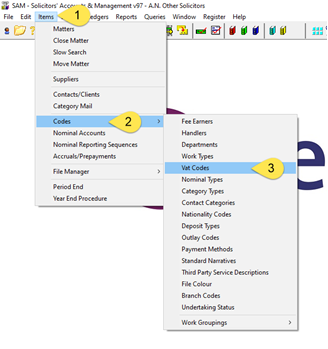 In the screen which opens click on Insert
Now give it a letter which is not already in use along with the 9.00 rate
Once you click ok this new rate will immediately be available on the system.
Remember! DO NOT change an existing code to 9.00, create a new code.
If you require further assistance, feel free to call us on +353 1 290 2222.